We take all of the guesswork out of having your own Magento VPS. Our expert Linux system adminstrators can help get you up and running in mere minutes. On top of this, we offer something with all of our VPSes that we believe nobody else offers - full root access to your machine, without compromising on the support experience. That's right - we not only let you have total control over everything that happens on your Managed Magento VPS, but we also take care of any problems that arise, even if they're caused by a mistake.
We focus on providing the fastest and most reliable Managed Magento Hosting experience possible. This begins with our server hardware. Our servers utilize the latest-generation Intel Xeon processors and are paired with DDR4 RAM and Enterprise-grade SSD storage to provide the best possible performance for your Magento stack.We then top this off with one of the most reliable backend systems in the hosting industry, thanks to several factors. These range from our redundant systems for power, cooling, and internet upstream providers in our St. Louis-based data center, to our 99.99+% uptime guarantee. This all adds up to your server being available every single time that you need it.And should your server's files disappear or a configuration break your setup, our free weekly backups can help you restore your server back to a functioning state in a short amount of time. We also offer daily backups as an option if having peace of mind for your server's data is especially important to you.
Our technical support team is in the business of treating your Magento VPS with the care that it deserves. They will go in-depth with your server and can build your Magento web stack, install and configure the Varnish and Redis cache systems, set up Nginx SSL termination, as well as help you troubleshoot any server-related issues, configure your firewall, and much more. In short, our team will make sure that your Magento store works perfectly on your server, no matter what.We go to extensive lengths to make sure that your Magento Hosting experience is smooth sailing, even if you need additional things done to your system. If for example you need to upgrade your Magento version, install a Magento module, create an Nginx or Apache redirection rule, or configure a mail server, we have you covered. You name it, we'll do it.
Included for free with our Magento Hosting plans is our system administators's tailor-made server optimization for your Magento setup. This is an exclusive feature that won't be found anywhere else. Our admins go into the nitty-gritty and manually optimize your server's setup to perform the best it can based on your unique system configuration. This is not done with pre-made scripts or configuration files - our team does it all by hand.
Focus on growing your Magento store while we take care of the technical details for you. With our fully managed Magento hosting solutions, and our 24/7 US-based technical support, you can rest assured that your Magento store is always available and is performing well.
As always with our VPS hosting, we never upsell our plans - the price of the plan that you order will stay locked at that price no matter what. This is unlike other hosting companies that can sometimes drastically increase your rate after a set amount of time. We make sure that you never feel cheated or lied to.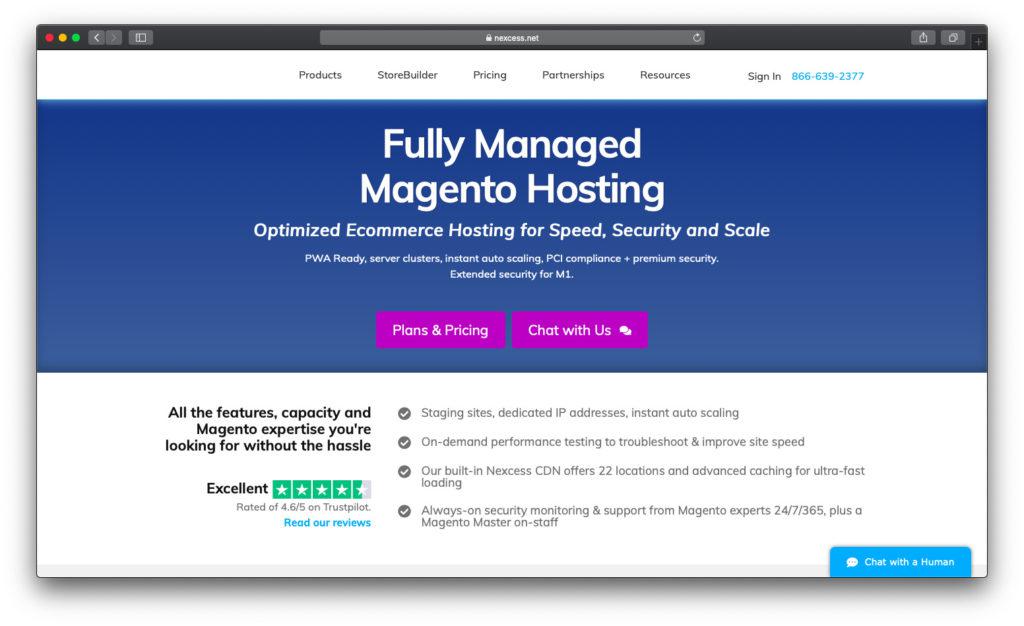 Magento is a popular and feature-rich open-source e-commerce web application designed to make the experience of running a modern business painless. With development starting back in 2007, and a release in 2008, Magento has had many years to perfect its features and functionality. And since Magento has existed for a decade now, it's clear that this platform is here to stay for the forseeable future. With highly-customizable options, a plethora of tools, and lots of documentation thanks to the massive Magento community, Magento is the most popular choice of e-commerce platform for a reason.
The development for Magento started back in 2007 by its parent company, Varien. At this point, Magento was merely beta software, without a fleshed-out feature set. Over the next two years, customizability was the main focus for Magento's parent company. With this, the extremely customizable nature of Magento allowed it to grow in popularity, even past its main competitor, osCommerce.
As the years passed, Magento grew larger and larger. So much so, in fact, that Varien's name was changed to Magento in 2010 as it was more recognizable. eBay wanted to get a slice of the eCommerce pie, so they bought a 49% share of Magento the following year. However, once eBay split up, so did their share. This led to Magento becoming a fully-independent company, owned by the Permira private equity fund in 2015.
Since then, Magento has grown to become the most popular eCommerce platform, offering both a consumer-level and enterprise-level version of their eCommerce software platform. This large size led to Adobe's merging of Magento's Commerce Cloud with their own Experience Cloud in 2019. From a small beta to a billion-dollar company merged with Adobe, Magento has showed its true potential to the world.
Magento is fully customizable and ready to meet any user's requirements, allowing them to create and launch a fully-functional online store in minutes. Magento is known as a 'heavy' eCommerce solution and if not set up properly, it can be slow.