Today, small, light and portable tablets are becoming more and more popular among consumers and have almost become part of our daily lives. However, I believe that before buying a tablet, many friends will face the same problem as me, that is, what size tablet to buy? The most common on the market are 7, 8, 9.7 and 10.1 inches, etc. What size tablet is right for you? And how to choose? Let's take a look together!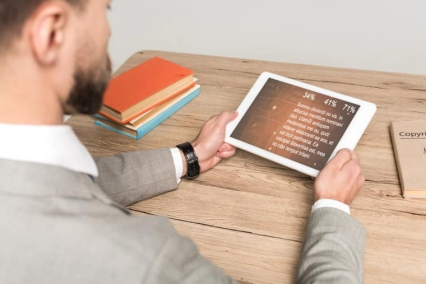 How to calculate tablet size

?
The tablet screen size is the diagonal size of a mobile PC screen, usually expressed in inches. 1 inch is 2.54 cm, so a 7 inch tablet is 17.78 cm, a 9 inch tablet is 22.86 cm, and so on. If you want to know the length and width of the screen, you must understand the aspect ratio of the display. If your 10-inch tablet has a 16:9 aspect ratio, then the screen length and width are 22.1 cm and 12.1 cm. When we get familiar with these numbers, we will have a general idea of the size of the tablet.
What do you need a tablet for?
Why you need a tablet is the most important question when choosing a tablet by screen size. Usually tablets come in sizes from 7 to 13.3 inches. Tablets of different sizes have different weights, as well as differences in resolution and hardware configuration. At this time, we need to think about why we buy tablets, for example, for work, study or entertainment? At the same time, what are our requirements for screen resolution, camera, and tablet processor?
A 7-inch tablet is about the same size as a large-screen mobile phone, but slightly wider. Such a tablet is very suitable for people who often lie in bed and play with mobile phones. With a tablet of this size, it is very convenient to surf the web and read electronic novels.
The 8 inch tablet is limited in resolution, when we open various electronic documents, we may not see clearly. But if you want to take the tablet with you and play at any time, an 8-inch tablet is more suitable for you. When you walk down the road, it's good to read, watch a video, quickly find something on the net.
Tablet 9-10 inches, this is a universal size. A tablet of this size looks very comfortable in both horizontal and vertical positions, like 9.7-inch Huawei matepad t10. If you mainly want to do indoor entertainment and enjoyment, then this tablet is your best choice. Because the screen is large, playing games, watching movies, reading novels, surfing the Internet or editing documents will all have a good visual experience.
A tablet with a diagonal of 11-13 inches can practically replace laptops for most tasks. For a tablet of this size, I would recommend the matepad pro 12.6 because it is very economical. A tablet of this size is more suitable for business people who use it for work, presentations and writing reports, and for students who search for materials and write dissertations. At the same time, such a tablet has a higher resolution and a better hardware configuration. Of course, there are downsides to this large tablet, such as being expensive, consuming power quickly, and being difficult to carry around.
C

onclusions
Nowadays, whether in life or at work, we almost always use a tablet, which brings us great convenience. There are different types of tablets on the market and when choosing, we should buy according to our actual needs. I believe that we can find a tablet that suits us.
---
PREV: Huawei MateBook X Pro (2021) Review: Stylish and Functional Laptop
NEXT: How To Choose A Tablet For Your Child: Four Best Tips For You