Updated: 1/18/2021
Dreaming of a life with warm breezes, friendly neighbors, and beaches right in your backyard? If so, Hawaii might be the place for you!
To help you in your quest to move to Hawaii from the mainland, we've created a basic 3-step guide full of advice and tips for moving to Hawaii. When you're in the beginning stages of planning your move, start out by deciding which of the islands is right for you. Each island has its own character, atmosphere, and job opportunities. Additionally, the cost of living can vary between islands. Deciding on an island will help focus your research so you can start to zero in on what your life might look like in your new home.
We'll also walk you through some of the key consideration points of living in Hawaii—including housing, jobs, schools, health insurance, and pets—as well as what you need to know about making the move to the Aloha State. You'll discover all the options for getting your belongings to Hawaii, as well as the best way to find a moving company if you decide you want some help making the move.
Moving to paradise comes with a lot of moving parts. Our 3-step process will help you break it down into manageable pieces so you can make a simple and easy move to Hawaii.
Let's start with the first decision you'll need to make.
Step 1: Choose an Island to Move To
Which island will make the perfect new home for you? While all of Hawaii has beautiful scenery and great weather, some islands might be a better fit for you than others. You'll find seven inhabited islands in Hawaii: four main islands which most people reside on, two relatively remote islands that are more sparsely populated, and one reserved exclusively for its longtime residents (Niihau).
Oahu, the most populous, is good for those who like city life and entertainment and don't mind some traffic and crowds. Maui has a smaller, but still sizable population and is known for its beauty, cultural scene, and artist communities. The Big Island and Kauai have much smaller populations, diverse geography, and lush vegetation. Lanai and Molokai, which have the fewest residents, provide a quieter, more remote life, yet are still only a short flight from the larger islands.
Check out a map of the Hawaiian Islands, do some research about what life is like on each one, and take a trip if possible to scout them out before you move. (An in-person visit is the best way to figure out which island is right for you!) We'll also give you a brief run-down on each below.
Moving to Oahu: The Gathering Place
Population (2019): 974,563
Area: 596.7 sq mi
Highest Elevation: 4,003 ft
Although it's only the third-largest Hawaiian island, Oahu is home to nearly one million residents. It's also the most developed of all the islands. On the Gathering Place, you will find some of Hawaii's most popular destinations including the state's capital, Honolulu, as well as Waikiki and Pearl Harbor. Due to the amount of development, Oahu is certainly the island with the greatest number of job opportunities in industries that include tourism, government, military, healthcare, and construction.
When it comes to where to live on Oahu, the island offers a few options. We put together a quick overview of each of the different areas of the island, to help you decide which is best for you and your family.
Living in Waikiki:
Considered the center of Oahu, Waikiki has a lot of tourist activity, and there are several things to do with your time. Great restaurants and nightlife, world-class shopping, and picturesque beaches will keep you busy. Because of all the tourism in Waikiki, prices for everything are typically a bit more inflated than other areas of the island.
Living in "Town:"
In addition to Waikiki, you'll find Manoa, Punchbowl, Makiki, Kaimuki, Pali, Diamond Head, and Chinatown in the heart of Honolulu city, an area commonly referred to as "Town." Town can certainly feel crowded and noisy at times, as one would expect of a large city, but with that comes all kinds of activities and amenities, all within close proximity to your new home.
Living on the Windward Side:
Centered around the areas of Kaneohe, Waimanalo, and Kailua, the Windward side is home to lush foliage, crystal clear water, and some of the best beaches in Hawaii.
Living in East Oahu:
Comprised of the Hawaii Kai, Kahala, Aina Haina, and Diamond Head areas, East Oahu is more of a residential area containing mostly single-family homes with a bit more land. Here, you can escape the commotion of Honolulu.
West of Pearl Harbor:
Including the areas of Ewa (/ɛvə/), Kapolei, and Makakilo, this area delivers more of a local vibe with fewer tourists. Leeward Side: Made up of the Makaha, Nanakuli, and Waianae areas, the leeward side is home to many local island residents and boasts beautiful beaches and coastal areas.
Central Oahu:
Comprised of the Wahiawa and Mililani areas, Central Oahu is a great residential area with good schools. It can also typically offer more cost-effective housing options.
Pearl City, Pearl Ridge, Aiea, Halawa:
With a larger resident population, this area of Oahu sees a dryer climate and contains a lot of older homes from the 1960s and '70s. The commute from this area to Town is typically about an hour each way during the weekdays.
North Shore:
Centered around the areas of Haleiwa, Sunset Beach, Pupukea, and Waimea, the North Shore is full of breathtaking views. It's also home to some of the best waves in the world. If you find that you'll need to venture to town often, the North Shore may not be the place for you, as commute times into town are often over an hour (and more during rush hour)!
Moving to Maui: The Valley Isle
Population (2019): 167,417
Area: 727.2 sq mi
Highest Elevation: 10,023 ft
Maui, the Valley Isle, is the second-largest Hawaiian Island. Named for the large isthmus which separates the two major volcanic masses on the island, Maui is home to a wide range of beautiful scenery and outdoor activities. Typically, the best places on the island for nightlife and other activities are Wailea and Kihei in the south, Kahului in the central region, and Lahaina in the west. As with all the Hawaiian Islands, tourism is the primary source of jobs on Maui, followed by construction and agriculture.
If you're curious what kind of activities and entertainment you'll find on the island of Maui, these will offer you a taste of life on the Valley Isle:
Hiking and biking at Haleakala National Park.
Snorkeling with sea turtles around the lava arches off the small island of Molokini.
Spotting migrating humpback whales in the winter months.
Sampling local specialties such as coffee, chocolate, pineapple wine, and dragon fruit at the local farms and plantations on the island.
Taking a drive on the Road to Hana which is one of the most breathtaking (and heart-stopping!) drives you may ever experience.
Moving to the Big Island, Hawaii: The Orchid Isle
Population (2019): 201,513
Area: 4,028 sq mi
Highest Elevation: 13,803 ft
The largest Hawaiian Island, which is twice as big as all other Hawaiian Islands combined, contains the most diverse geography of all the islands. On the west side of the island, the Kona Coast is hot and dry. In the east, Hilo is wet and tropical. While it is the largest in size, the Big Island is home to only one-fifth of the population of Oahu. With the large geographic area and smaller population, the island feels a lot more like Kauai than it does Oahu or Maui, both of which are more densely populated. Tourism is the primary source of jobs on the Big Island, with agriculture and civil-related jobs coming in second and third. Most of the tourism on the island of Hawaii is located on the western side of the island along the Kona Coast. This can create a lot of traffic during commute times as a lot of residents who live in Hilo commute to Kona for work.
In terms of activities and entertainment, the Big Island offers something for everyone. If you lived on the Big Island, you might find yourself...
Visiting Hawaii Volcanoes National Park.
Venturing up Mauna Kea, the island's highest peak at 13,803 ft, which gets snow.
Snorkeling with Manta Rays near Kona.
Hiking through the rainforest and checking out waterfalls in the Hilo area. Spotting green sea turtles along the Kohala Coast
Moving to Kauai: The Garden Isle
Population (2019): 72,293
Area: 562.3 sq mi
Highest Elevation: 5,243 ft
As the smallest of the four main islands both in size and population, Kauai has a small-town feel. Most residents of the island live on the coast as the interior of the island is largely made up of impassable terrain. In fact, only about 20% of the island is accessible by foot or road. Jobs on Kauai are primarily related to tourism, but there are also civil-related jobs and some military jobs available.
In terms of activities and entertainment on the island of Kauai, you might expect to spend your days doing some of the following:
Hiking to some of the amazing lookout points into the Waimea Canyon, a massive gorge that is often compared to a mini-Grand Canyon.
Visiting the Koke'e State Park where you can overlook the amazing Napali Coast and the Kalalau Valley.
Spotting the many forms of wildlife at the Kilauea Point National Wildlife Refuge on the North Shore.
Hanging out with the thousands of beautiful feral chickens that roam the island freely.
Living on Molokai, the Friendly Isle, or Lanai, the Pineapple Isle
With around 8,000 and 3,200 residents respectively, v Molokai and Lanai offer gorgeous landscapes with very few people on them. Many will find these two islands far too remote to call home, but if a life of solitude is one you're seeking, both islands certainly offer a lot of privacy, as well as a close connection with nature.
Once you've decided which island is likely the one where you'll make your home, your next step will be to decide what you'd like your Hawaii life to look like. Next, we'll walk you through a couple of areas to consider as you contemplate your move.
Step 2: Plan
Y
our
N
ew
L
ife
in Hawaii
Jobs in Hawaii
Hawaii's high cost of living means you'll probably need to find a job, unless you're a retiree or you're bringing your job with you as a remote worker. Although Hawaii has a relatively low unemployment rate, it can be difficult to find a job, depending on what industry you're looking in.
Jobs in Hawaii are most plentiful in hospitality, tourism, retail, healthcare, construction, government, and military. While Hawaii offers some challenges for entrepreneurs, Honolulu does have an emerging startup scene. You can also search for jobs on
Real Jobs Hawaii
,
Hawaii Jobs on Demand
,
Hawaii.gov
,
Indeed
,
Monster
,
LinkedIn
, and
Craigslist
.
However, you'll find that doing business in Hawaii centers around relationships, so start making friends and asking around once you arrive. You'll likely find it easier to locate work through someone you know, rather than applying blind to jobs you find online.
Buying or Renting Homes in Hawaii
It's no secret that homes are expensive in Hawaii. According to Zillow, the typical home value in Hawaii is $649,905. Median rent values in Oahu range between $2,000 and $3,000.vi However, prices vary dramatically from island to island. In Honolulu, the typical home value is $704,960, while in Hilo it's only $353,627.
To decide if you should rent or buy, consider which island you'll be moving to and how long you're planning to stay. You can also use a buy vs. rent calculator, such as
this one from SmartAsset.com
to explore your options.
Finding Good Schools in Hawaii
Deciding where to send your kids to school after a move is always difficult. To get started, you can do some research on
Hawaii's statewide public school district website
, as well as investigate your options for
private schools
. If you're thinking about homeschooling, check out the Hawaii public school system's
guide to homeschooling
.
Health Insurance in Hawaii
One item to also consider when moving to Hawaii is the cost of health insurance, as well as the options available on the islands. Because much of the work available is tourism-related and seasonal in nature, many employers on the island employ a lot of part-time or contract-based workers. These positions may not include the same health insurance benefits as a full-time job. However, the Hawaii Prepaid Health Care Act mandates employers to offer coverage to employees working at least 20 hours per week. Be sure to do your research and budget accordingly, knowing that your health insurance options may be more limited on the islands in comparison to what's offered on the mainland.
Bringing Your Pets to Hawaii
Did you know that Hawaii is the only rabies-free state? To keep it that way, there are strict rules and regulations for animals entering Hawaii. If you decide to bring your pets with you when you move, make sure you're aware of everything you'll need to do in advance. Check out our
Complete Guide to Moving Your Dogs, Cats, and Other Pets to Hawaii
to familiarize yourself with the rules so you can start to make plans.
Shipping Your Cars to Hawaii
You're going to have a decision to make when it comes to your car, truck, SUV, or motorcycle. Should you ship them to Hawaii? Or sell them before you move and buy another once you get there? It all depends on how many miles you expect to get out of your vehicle before you'll likely replace it. If it's coming to the end of its time with you, it's probably better to sell it. However, if it's new to you and you plan to get several more years out of it, it's probably worth it to bring it with you.
That said, it's a very personal decision. It's also one that also depends on where you live now. For example, if you live near a port city in California, shipping your car will be relatively simple. If you live in the middle of the country, far from a port city, it's a little more complicated (and expensive)!
To help you decide, we've got two resources for you:
Shipping Your Car to Hawaii: Your Biggest Questions Answered
The Complete Guide to Shipping Your Motorcycle to Hawaii
(And if you do decide to ship a car, truck, motorcycle, or SUV to Hawaii, know that we can help you get it done with minimal hassle!)
Once you've made the big decisions about where you'll move and what your life will look like in Hawaii, there's only one thing left to do: Make the move! Next, we'll walk you through your moving options so you can transition to Hawaii exactly the way you want to.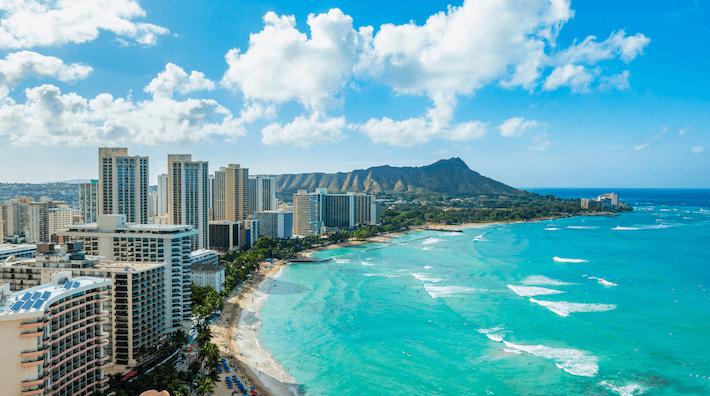 Step 3: Pack & Move
When to Move
Because the weather is beautiful in the Aloha State year-round, you might assume that there's no "good time" or "bad time" to move to Hawaii. While the weather won't be much of a factor, the summer months (May through August) are the busiest for moving. If you can, we recommend scheduling your move between September and March, which are less busy. You'll likely find it easier to book the exact dates you're looking for, and prices to move in the off months can typically be better than the height of the summer months.
How to Move: Your Three Options
Everyone moves to Hawaii differently. That said, you'll essentially have three major options in front of you:
Option #1:
Do It Yourself: If you're a minimalist—or you're not sure how long you'll stay in Hawaii—this could be the way to go. Check two suitcases, send a few items ahead with those handy USPS fixed-price Priority Mailboxes, and buy everything else when you get there. The DIY option will be your cheapest upfront. However, you'll be doing all of the heavy liftings, and if you decide to stay, you may end up needing to buy some significant items in Hawaii.
Option #2:
Door-to-Door Service: Choose a professional moving company who will come and pack your house for you, move all of those items to your choice of Hawaiian Islands, and unpack everything at your new home. This will likely be your most expensive option, but it delivers a high level of convenience. If you don't have a lot of time to make your move, this is your top option.
Option #3:
A Hybrid of These Two: Find a moving company that will deliver a container or a lift van to your house. (We'll get into those details in a minute!) You pack it yourself, then the company delivers it to your new home, where you unpack it yourself. It's less expensive than door-to-door service, but it does require you to do a lot of the work yourself. However, as opposed to the bare-bones approach of option #1, you won't have to buy as many items once you're in Hawaii.
However, before you get your heart set on one of these options, there are a few more things to consider. First...
Is It Time to Downsize?
People often ask us how they can save money when moving to Hawaii, and we always give the same answer. (And here's the great news: It will also streamline your moving process!)
Downsize before you move
. Ultimately, your move will be priced by weight (
more on that here!
), so the more you're able to get rid of, the less expensive your move will be.
So, before you start thinking about how you want to move, we recommend going through absolutely everything that's in your current house and divide things into four piles:
Move to Hawaii
Donate to a charitable organization
Sell via Craigslist, Facebook Marketplace, yard sale, etc.
Trash
As you do this, think carefully about what you'll really need in your new island home.
Wool sweaters? High-heeled shoes? Tailored suits? You might not want those with you in paradise. Instead, it might be time to send them to a new home.
Once you do a significant downsize, then you'll be ready to start looking more closely at the "how" of your Hawaii move. Curious about your options? Let's take a look...
Containers, Lift Vans, and Ocean Freight in Plain English
If you're doing more than the "checked suitcases on a plane" route, your belongings will travel to Hawaii
by boat via ocean freight.
First, though, they'll be loaded into one of these three for their voyage:
Capacity: ~1,170 cubic feet; fits the contents of a two-bedroom apartment*
Capacity: ~2,390 cubic feet; fits the contents of a three-bedroom house*
Capacity: ~170 cubic feet; fits a king-size mattress, box spring and 12 large moving boxes
* Your mileage may vary, depending on whether you're a collector or a minimalist! We've had customers in two-bedroom apartments who used 40′ containers and others who fit a whole household into a 20′ container.
Most people are familiar with containers, but we get a lot of questions about lift vans.
In short, they're sturdy wooden crates, kind of like mini-containers, constructed from wood instead of metal. When people don't have enough to fill a 20′ container, they can instead pack their belongings in a lift van (or two!). Those, in turn, get loaded into a container, which gets put on a ship headed for Hawaii.
So how do you decide which of these three options is right for you?
We offered a few capacity recommendations above, but the best way to know for sure is to ask an expert, ideally during an in-home survey. Let's talk a little more about why these surveys can be so useful for your Hawaii move.
Why In-Home Surveys Can Be Your Best Tool for Calculating Your Move
If you've done some research online, you've probably seen a few
online moving calculators out there
. In a world when you now buy a new car online, it might feel delightfully old-fashioned to have someone come to your house to
survey your items and provide a moving quote
.
That said, in our opinion, an in-home survey will be your easiest path to a reliable, guaranteed price per pound for your move.
Here's how it works: Your surveyor will come to your house (or connect with you virtually; options like these are expanding every day!) and take a look at your current home and your belongings, including the things that are difficult to capture in an online quote form, such as:
How much stuff do you have?
(To put it bluntly!) As we mentioned earlier, everyone is different. Your 1-bedroom apartment might be filled to the brim with furniture, art, and décor, while your neighbor might live very simply. Because your move will be priced by weight, you and your neighbor would get two very different quotes.
Are your things heavy?
Are you taking a library of books you've collected over the course of 20 years? How about a solid wood antique dining set? These items will affect the price of your move, and your surveyor will take this into account.
Do you have any fragile items that need special handling?
Fine art, pianos, large flat-screen televisions, and other breakable items may need special attention to ensure they arrive safely after their 2,000+ mile ocean journey.
Are there any access challenges?
Several flights of stairs, narrow roads, and other physical features may make it more challenging to execute your move. Your surveyor will take a look at these and include the cost in your quote.
The result? You'll get a moving quote you can count on so there are no surprises on Moving Day.
Your surveyor will also ask about how you want to protect your move. You might think of this as "moving insurance," although the moving industry has its own terms for this. We'll walk you through that next.
Can I Get Moving Insurance?
Considering your possessions are going to make a transpacific voyage across more than 2,000 miles of open ocean to reach their final destination (and that doesn't even take into account any road miles!), it makes sense to
think about protecting your move
.
By law, every interstate moving company is required to offer you, at minimum, two options:
Full-Value Protection:
In the event that something happens to your possessions during transit,
full-value protection covers your items for the cost of full replacement or repair.
Released Value Protection:
Under this option, your moving company is required to reimburse you at
up to $0.60 per pound per article for anything that gets damaged or lost
.
Want to see how the math works?
We'll show you how to make the calculations
to help you decide which route you want to take.
If something does happen to your items in transit, the difference between these two levels of protection is significant.
Make sure you understand your options well before making a final decision. And if you have any questions, the surveyor who comes to your house should be able to answer them for you.
Now that we're narrowing in on some of your biggest moving decisions let's talk about one of the biggest: How do you choose the right moving company for you?
Selecting the Best Moving Company for Moving to Hawaii
As you do your research, you'll find several companies who would be happy to help you move to Hawaii. In fact, with all the options available online, it can get a little overwhelming.
First and foremost, you want to make sure you're
working with a reputable moving company
. Unfortunately, scams do happen, but there are a couple of things you can do to protect yourself.
Start by getting quotes from three, independent moving companies.
That way, you'll have a good sense of what the going rate is for a move like yours. Now, if one quote is significantly lower than all the others, you might want to be a little wary—especially if there's no in-person survey. Sometimes, these lower-priced carriers will tack on a bunch of extra charges on Moving Day. Other, more unscrupulous operators may refuse to release your belongings until you pay some unexpected fees. That's why it's important to...
Do your research.
Check the company's Better Business Bureau rating. Scan their social media properties and look for patterns. See if they hold membership in any professional organizations. You'll likely get a sense of how that company operates fairly quickly. (And if you want to be really thorough, we'll show you even more ways to
research your moving company.
)
Understand Your Rights.
The Federal Motor Carrier Safety Administration oversees moving companies, and there are laws in place to protect your rights. This FMCSA brochure will lay out exactly what you need to know so you understand your rights and responsibilities under the law.
Once you've done your planning, preparation, and research, it's time to make your final decisions. Then, there's only one thing left to do: Get excited about your upcoming move to Hawaii!
Paradise, Here You Come!
After 35+ years of helping tens of thousands of families move to the Aloha State, we would love to welcome you to Hawaii. There's so much to enjoy about the island lifestyle, and watching newcomers delight in all that Hawaii has to offer ignites our own appreciation for these islands all over again.
If you need assistance with your move, we'd be happy to help! We have crews and warehouses on Oahu, Maui, Kauai and on both sides of the Big Island—Kona and Hilo. We'd love to help you make a safe, easy, and affordable transition to your new home—and greet you with aloha.
Just get in touch with us for a complimentary quote to get started
.
Tell us about your move!
Moving From
*
Choose Region
Oahu
Maui
Kauai
Big Island - Hilo
Big Island - Kailua-Kona
US Mainland
International
Moving To
*
Choose Region
Oahu
Maui
Kauai
Big Island - Hilo
Big Island - Kailua-Kona
US Mainland
International
Full Name
*
Your Email
*
Phone
*