How to Get a Virtual Mailing Address for Your Business
Learn how to get a physical mailing address (street address or PO Box) for your business at just a fraction of the cost to rent an actual office by using a virtual office.
Article by
Lizzie Davey
Updated: January 2, 2020
Tags:
small business
So you have your own business, but you've hit a roadblock:
you need a business mailing address
. The problem is you don't have a physical office… Perhaps you work from home or you have an online business. Therefore, you have no physical mailing address you can give out to your customers – unless of course you give out your home address (which is not professional or recommended).
The thing is, a lot of official documents will need a business address. And, if you want to come across as professional to your customers, it's a good idea to have an official-sounding place of "residence". So what's the solution?
Options for Getting a Business Mailing Address
You have several options available depending upon your needs:
Private Mailbox:
This is the least expensive option where you can signup to get a private mailbox from your
local post office
. Unfortunately, your address will have a "P.O. Box" number on it. Furthermore, you cannot receive packages from other carriers (UPS, FedEx, etc), which might be a huge setback. However, the cost is minimal (usually less than $10/mo for most locations) and primarily depends on the size of the physical mailbox and the amount of time you need it for. It's definitely your cheapest option. You can also get a private mailbox from other places, such as
UPS
and
Pakmail
, which cost a little more, but do not have a P.O. Box number on the address and can typically receive packages from all carriers.
Virtual Mailroom:
This is another option where you can signup with a service that provides you with a business mailing address in a city of your choice and they will scan and upload images of your mail to a secure website where you can view it. You can view your mail online and let them know whether they should shred it, forward it to you, deposit checks, or do any other necessary task. A virtual mailroom costs a bit more than a private mailbox, but obviously offers a more prestigious address and convenient service for your business. Earth Class Mail is a well-established virtual mailroom service provider and it has plans starting at $69 per month.
Virtual Office:
This is the most expensive option and provides all the features that a virtual mailroom offers along with additional services such as physical office space or conference room rentals and virtual receptionists. This means not only having a prestigious mailing address, but also the ability to meet clients and hold meetings in an actual office space in a prime location. With this option, you get a more traditional & professional image that will impress your customers. A virtual office is our recommended choice as it does everything you need a real office to do, but without the high overheads and maintenance. Davinci is a popular virtual office and has many locations starting around $60 per month.
QUICK TIP:
Try to choose a business mailing address that is centrally located in a major city near you.
Why Choose a Virtual Office?
In this article, we're going to recommend going the virtual office route for your business. Millions of entrepreneurs and small business owners use a virtual office to:
Have a prime business mailing address
Establish a presence in a specific location (for example, if you're targeting a certain market, you might want to virtually locate your business there)
Get access to services and facilities that a real business office has
Set boundaries between their work life and their home life
Setting up a virtual office means you will get your own dedicated mailing address to use on all things related to your business – from business cards and email signatures, to your website, billing invoices, and official documents. Having a virtual office can bring a number of benefits:
Save on Costs
Virtual offices are ideal for businesses that need a physical mailing address and office space, but don't have one. It's much cheaper than the cost of renting or buying a physical office. In fact, virtual offices are
so
cost-effective, that they are
projected to reap $700 billion in savings for the American business economy
.
Think about it this way: if you have a physical office, you have a number of regular outgoings that you have to set aside. Things like:
Rent and utility bills, which can add up to a considerable amount
Office supplies and keeping everything well-stocked
Cleaning and upkeep of the premises
With a virtual office, you don't have to worry about any of these things. The rent is nowhere near as much as a physical office because you aren't taking up any physical space, and there are absolutely zero cleaning costs because, well, there is nothing to be cleaned.
You will still have to pay for office supplies, but you won't have to provide desks, chairs, and other standard office equipment for employees and contractors.
A Safe Way to Hide Your Home Address
A virtual office saves you from having to disclose your home address to your customers. Even if you don't need any mail or packages delivered, your business will still need an address.
For example, if you plan on carrying out
email marketing campaigns
as a business (which you should), you'll need to have a real address to give to your
CRM system
.
By law, you cannot send out emails without providing a legitimate business address. With a virtual office, you have a safe address to put on your email marketing campaigns and it means you don't have to give up your privacy by putting your home address out there in public.
Trust & Credibility
There are hundreds of new businesses popping up every single day and not all of them are legit.
In fact, consumers are becoming more and more wary of untrustworthy businesses as they become more active participants in the marketing process. They no longer trust anyone who's trying to sell them something, and instead look out for authentic businesses that they can relate to, that they know, and that they trust.
With a professional address via a virtual office, you're showing consumers that you're the real deal, boosting your credibility and, therefore, the trust factor.
Take a moment to think about it from the other perspective. Are you more likely to buy from a company that:
Has an online space, but no address or phone number to find
Has an online space
and
a professional looking address and phone number
The latter option is more appealing, right?
And there's a reason for that.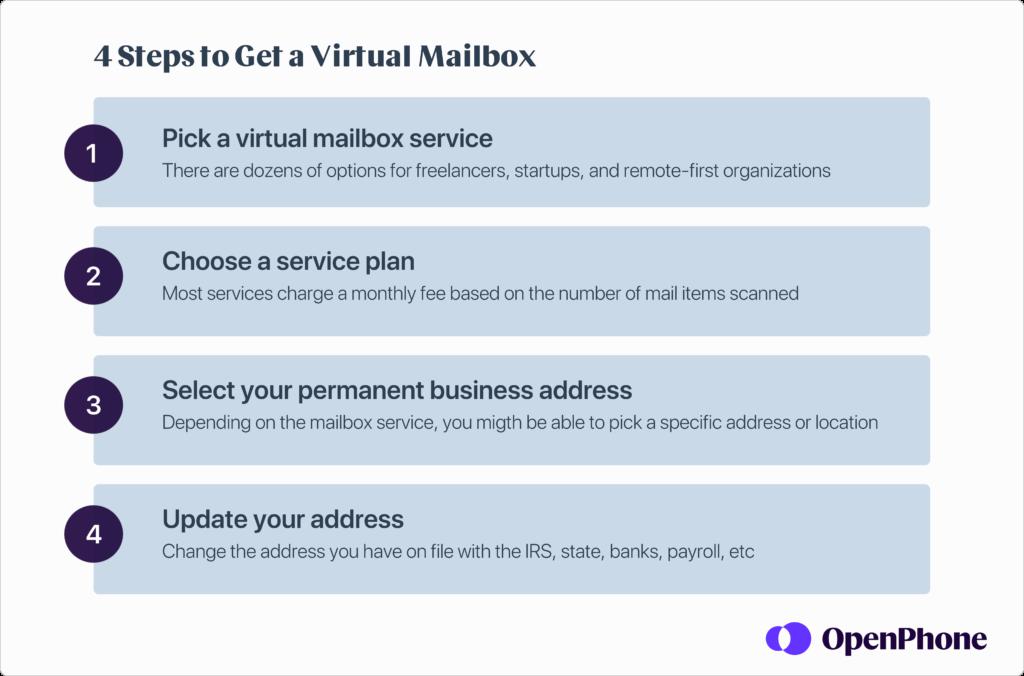 I was talking to a friend the other day who was looking for a repairman to fix her garden gate. She trawled hundreds of websites trying to find the right person, but was turned off by a
lot
of the options because they only had a cellphone number and no address.
The person she chose in the end? Well, they had a landline number
and
a legitimate address, so she felt safe in the knowledge that, if anything did go wrong, she'd be able to follow up without any problems.
Professional Impression
Tying in with trust and credibility, having a virtual office address gives your business that all-important professional image.
Like the scenario I shared above, people like to create concrete situations in their heads that keep them safe. When you display a legitimate address for the world to see, you're essentially saying that you
can
be trusted because you've put in the time, effort, and money to get yourself an office and a workspace.
Choose Your Location
With many virtual office providers (we'll talk more about them in a moment), you can set your address in any location you want. This means that, if you're targeting a specific demographic in a specific location, you can place your business right there with them (well, virtually, at least).
Consider this:
if you're looking for a company to carry out web design services for you, are you more likely to choose a company that's located near you or one that's on the other side of the world?
QUICK TIP:
Choose a virtual office that's within easy reaching distance so you can easily pick up any mail that gets delivered there.
As humans, we crave connections with other people, and one easy way to create that connection is to simply be in the same vicinity. We instantly feel connected to people and businesses we are nearer to, because we can more easily relate to them and we feel more similar to them that companies and people who are further away.
Join the Revolution
An American Community Survey found that
3% of the American workforce
(which was around 3.2 million workers at the time) worked from a virtual office. And that's set to rise.
Thousands of companies are in the process of revamping their office space to accommodate a workforce that is away from their desk the majority of the time. In this digitally connected age, having a virtual office means you can employ talent from all over the world, and keep up with the current remote working trend.
When you don't have a physical office to take into account, you're free to employ people with the best skills from anywhere in the world because they obviously don't have to be within commuting distance.
That being said, a lot of virtual offices have designated co-working spaces or shared office spaces where, if you need to, you can gather together employees and clients in a physical office situation.
How to Set Up a Virtual Mailing Address
Now that you know what a virtual office is and why it's beneficial to have one, let's dig into the process on how you can actually set one up.
There are 5 steps to get a virtual mailing address setup for your business:
Step 1: Find a virtual office solution
Step 2: Choose a physical location for your mailing address
Step 3: Pick & customize the services you need
Step 4: Purchase the service
Step 5: Complete your US Postal Form 1583
We'll cover these more in detail:
Step 1. Find a Virtual Office Solution
The first step is to find a virtual office solution. It's worth having a shop around to see which ones fit into your budget and which ones offer services that you need – some might come with a telephone number, for example, while others might not. Also be sure to check out
our guide on how to get a virtual business phone number
.
Other things you might want to look out for are:
Additional telephone answering services
Live, virtual receptionists
The ability to access meeting rooms for client meetings
Desks and office spaces to rent on an as-and-when basis if you occasionally need a physical office
The location, which should be somewhere you can easily pick up or ship your mail from
As stated above, we recommend using Davinci, which also offers key business features like live receptionists, meeting rooms, and even co-working spaces.
Step 2. Choose a Location
Next, you want to choose the location of your virtual office. Visit Davinci, click "Find an Office", and search for a location that you desire.
With Davinci, you can simply type in your city or town and it'll bring back a list of results of virtual offices in that area. Say we wanted Chicago, IL. We could even get a business address in the Willis Tower!
Step 3. Pick the Services That You Need
When you've chosen your location, it's time to customize your choice of services to suit you and your business.
A lot of services will come as part of the package with your virtual office, but for many of the options on Davinci, you'll be able to add extra services onto your subscription in order to make the most of it.
For example, this virtual office in Chicago lets you add on things like meeting space passes, weekly mail forwarding, and a physical desk space for a certain amount of time each month.
You can always upgrade your subscription later on down the line to add things you find out you need along the way, especially as your business grows.
Step 4. Check Your Subscription & Buy
Once you've added on the services you need, simply click through to confirm your order and make your purchase. Davinci, like with most other virtual office solutions, charges a one-time setup fee which you'll pay immediately when setting up your virtual office space.
Step 5. Get Your US Postal Form 1583
Virtual office mailing addresses require a US Postal Form 1583 which authorizes commercial mail receiving agents to receive mail on your behalf. This means you'll need a notary. Davinci provides a complimentary notary online which you can easily set up and get via Skype.
Enjoy Your Virtual Office!
That's it! It's really simple to set up a virtual office if you know exactly what you need from it and where you want it to be located.
Conclusion
A virtual office space is the perfect solution for businesses that don't need a physical office space. Not only do they give you a professional-looking address and telephone number that adds authenticity to your business, but they often come with a range of additional features that let you run your business easily and successfully without having to pay over the odds for an office.
Over the next few years, expect to see a boom in the virtual working world, where more and more offices move online in order to allow more room for remote working and to save on costs.
Also see:
Reading now:
How to Get a Virtual Mailing Address for Your Business